Elephant tattoos look good on both men and women. In fact, elephant tattoo ideas are so versatile that these majestic and beautiful animals can fit anywhere on the body. From small and simple to tribal, realistic, geometric, watercolor, or like a cartoon, there are many elephant tattoo designs to choose from. Plus, you can always get these amazing creatures tattooed with a flower for an elegant feminine look or focus on a black and white African elephant face for a bold finish.
Whether you want an elephant sleeve, forearm, shoulder, chest, back, ankle, hand, foot, or arm tattoo, here are the top design ideas for women and men to explore. Discover the best elephant tattoo ideas with these cool designs and drawings.
Elephant Tattoo Meaning
An elephant tattoo can mean and symbolize different things, depending on the design. Generally, the meaning of an elephant tattoo can relate to wisdom, prosperity, luck, power, strength, dignity, family, and character.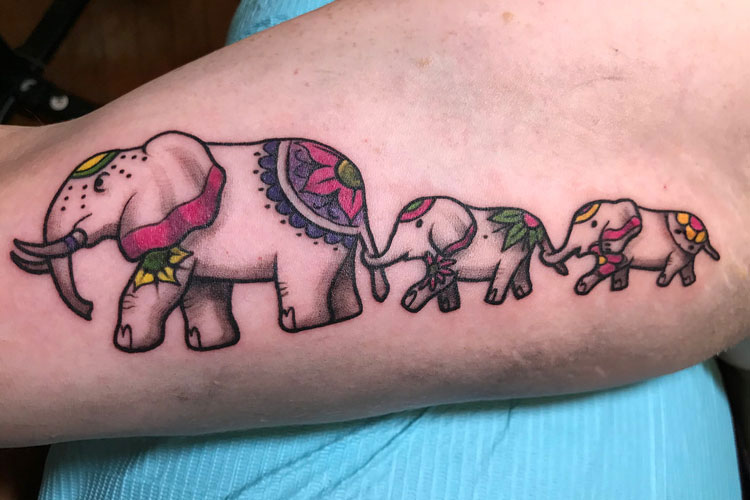 Elephant tattoos can come in all sizes and styles, from cute cartoon figures to large realistic depictions of the animal to intricate geometric shapes and designs. Elephants are visually stunning creatures, and they can hold great cultural significance. Both the aesthetic possibilities and the inherent symbolism make elephants a popular subject for tattoos.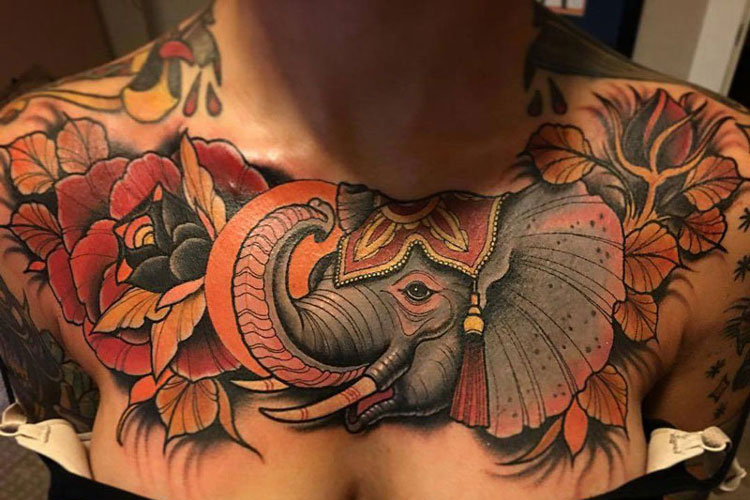 While elephants are large, these amazing animals are also frequently described as "gentle giants" thanks to their generally even temperament. As a result, tattoos modeled on elephants frequently portray them as calm, knowing, and happy creatures.
In Hinduism, the god Lord Ganesha has the head of an elephant. People who practice Hinduism associate Ganesha with success, and believe that he brings good luck to those who are pure of heart. Moreover, Ganesha is considered to have great wisdom, which may contribute to people's general belief that elephants themselves are wise creatures.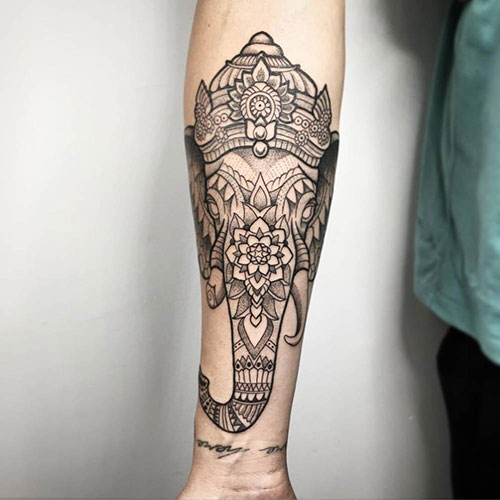 Elephants have a really interesting tribal dynamic. Socially, they are matriarchal: male elephants tend to wander around on their own, while female elephants will band together and raise their offspring together, sometimes creating very large herds.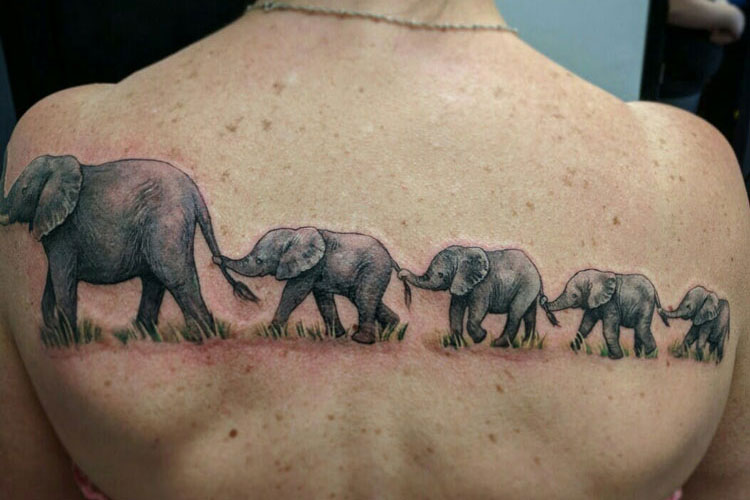 Some cultures also revere elephants as a symbol of fertility, while others regard them as a sign of chastity.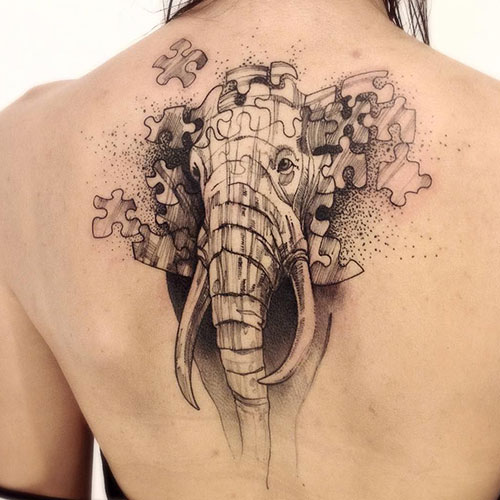 Generally speaking, elephant tattoos are often associated with concepts like prosperity, determination, compassion, and happiness.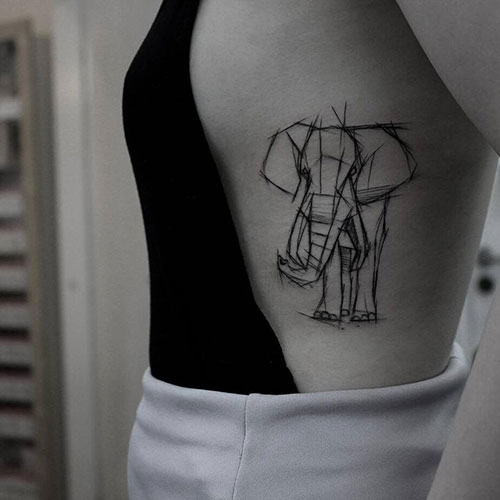 Cool Elephant Tattoo Ideas
There are many cute elephant tattoo ideas to pick from. You can opt for something simple and small or colorful detailed designs. Your favorite elephant tattoo will ultimately dictate placement. Here are the best design ideas to consider!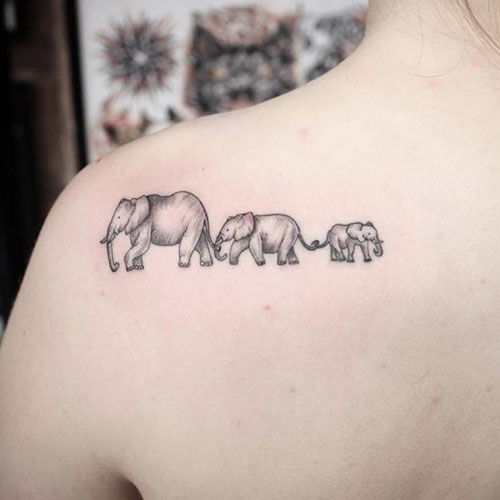 Small Elephant Tattoo
Just because elephants are large, it doesn't mean an elephant tattoo has to be. As long as you don't plan to get anything too ornate, you can get a small and unobtrusive design. An outline-only tattoo or a silhouette style are both excellent options.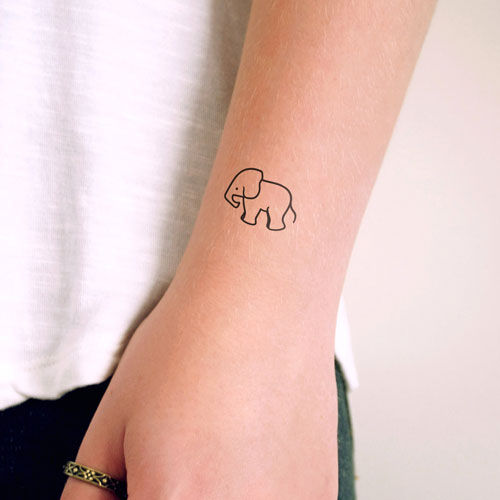 Simple Elephant Tattoo
Sometimes basic is beautiful and a simple elephant tattoo may just be the perfect design for you. Many popular elephant tattoos are adorable simple outlines, which means they can be quite small because they don't need to include too much detail. This kind of tattoo is easy and cheap to get; you'll be in and out of the chair within the hour.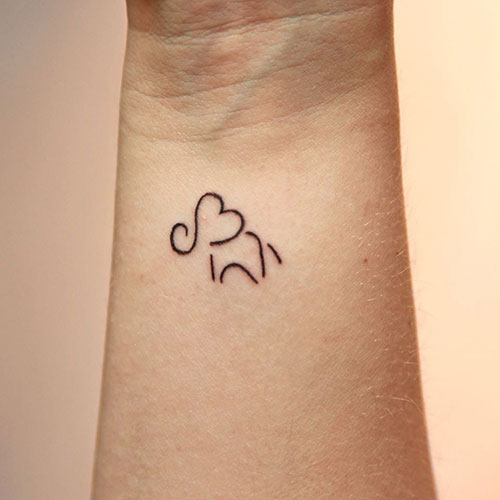 Elephant Outline Tattoo
There are several approaches you can take to doing an elephant outline. You can do a cute cartoon elephant tattoo, or one made up of geometric shapes.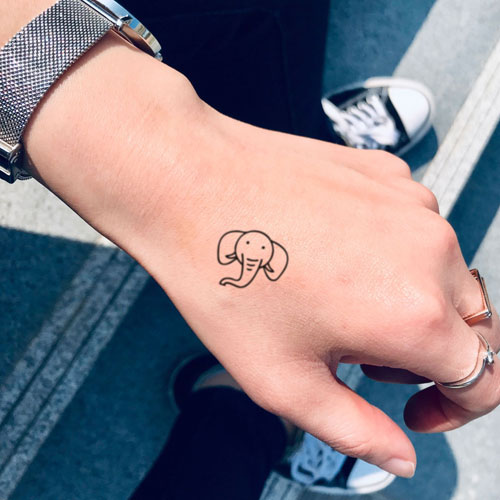 Watercolor Elephant Tattoo
A watercolor elephant tattoo combines the clean lines of an outline tattoo with the abstract aesthetic of a watercolor tattoo. This colorful tattoo has a distinct visual flair for something relatively simple to execute.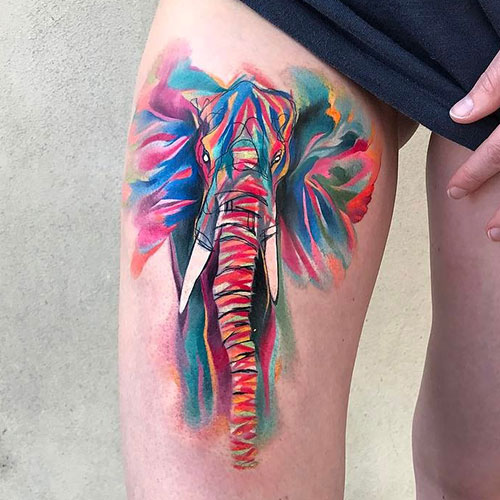 Black and Grey Elephant Tattoo
Elephants lend themselves very well to a black and gray tattoo, as elephants are gray. Whether you're going for a realistic interpretation or an intricate and culturally-significant design, you can get a surprising amount of detail from such a limited color palette.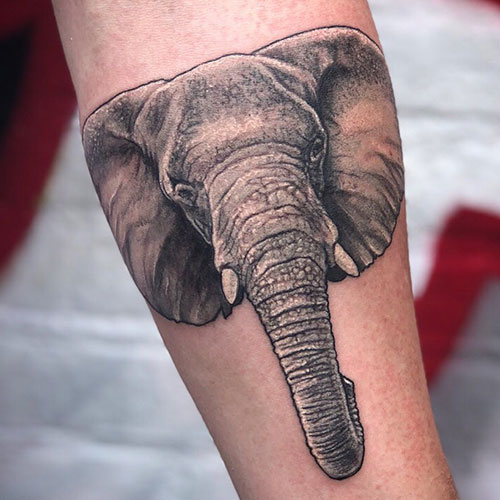 Elephant Flower Tattoo
If you want an elephant tattoo but you like a pop of color, an elephant flower tattoo is a great option. An outline of an elephant filled in with a bold and bright floral design packs a visual punch.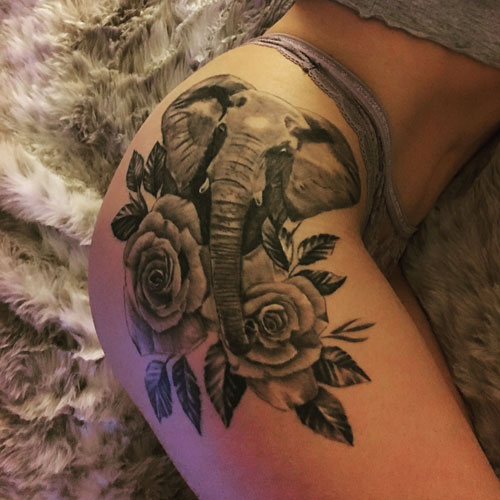 You can even choose flowers that have a great personal significance to you for a meaningful impact.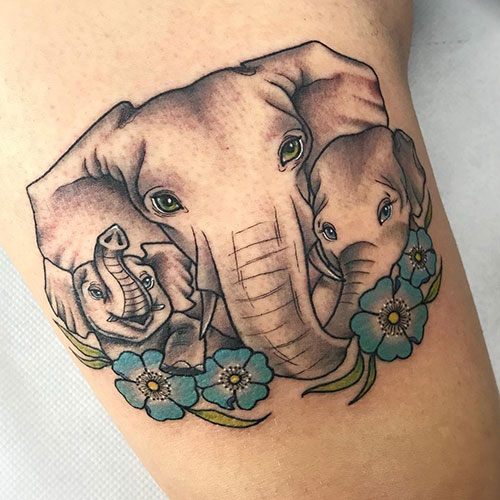 Mandala Elephant Tattoo
A mandala (the Sanskrit word for circle) is a geometric design that carries great significance in Buddhist and Hindu cultures. It consists of a spiritual or ritualistic arrangement of geometric symbols.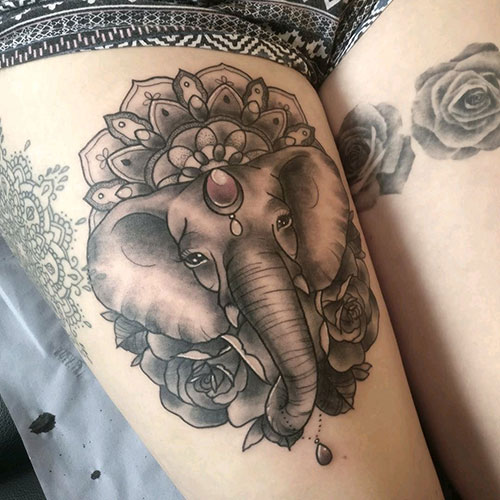 Elephants are also important subjects in Hindu and Buddhist religions, so the two are frequently combined in tattoos.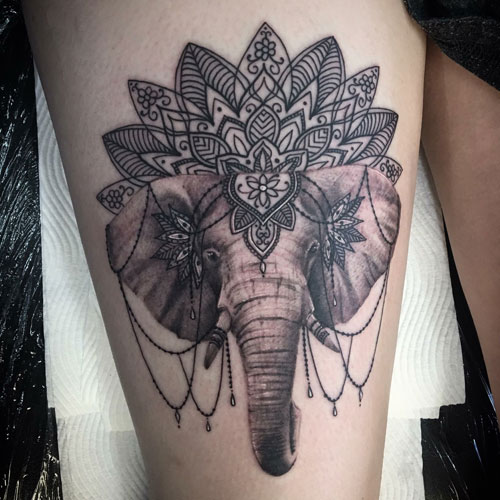 Mandalas are frequently incorporated into elephant tattoos in the background or in the form of an elaborate headpiece worn by the elephant.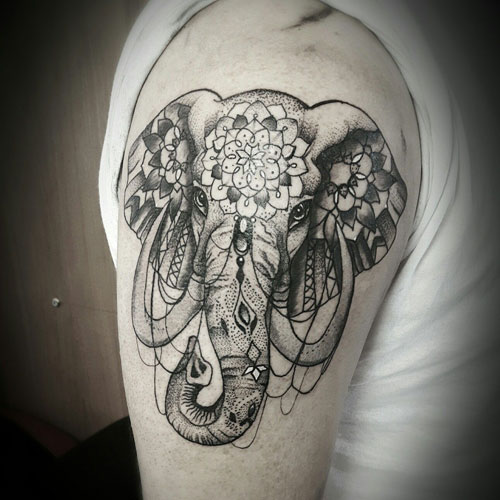 Women will get an outline of an elephant and fill it in with geometric designs in the manner of a mandala. These tattoos are frequently ornate and very detailed.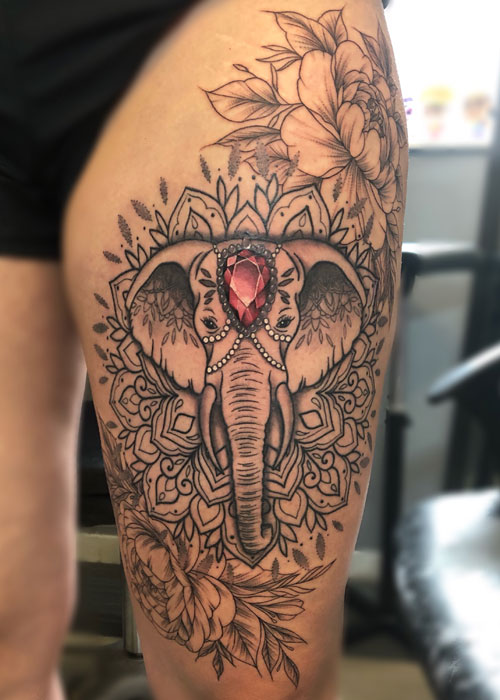 Elephant Heart Tattoo
One of the reasons elephants are revered is that they show a great sense of love and loyalty to each other. It should come as no surprise then that hearts, another symbol of love, are frequently incorporated into elephant tattoos. This can be done in a few ways.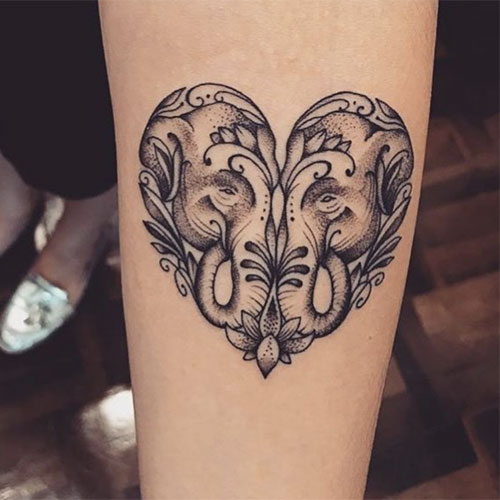 First, there are outline-only tattoos where the head in profile has a distinct heart shape. Another outline tattoo shows an elephant sitting on the ground and looking up at hearts floating in the air.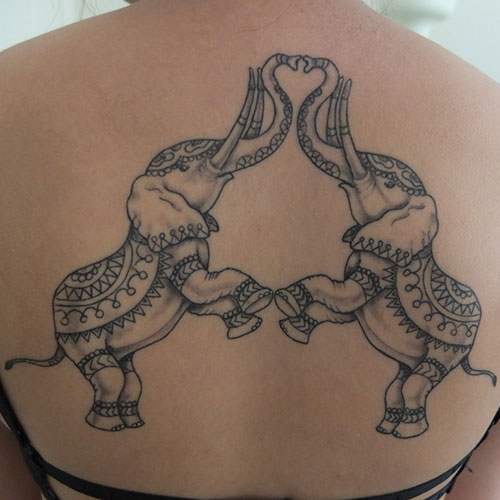 Then there are tattoos that show two elephants facing one another with their trunks intertwined and forming a heart.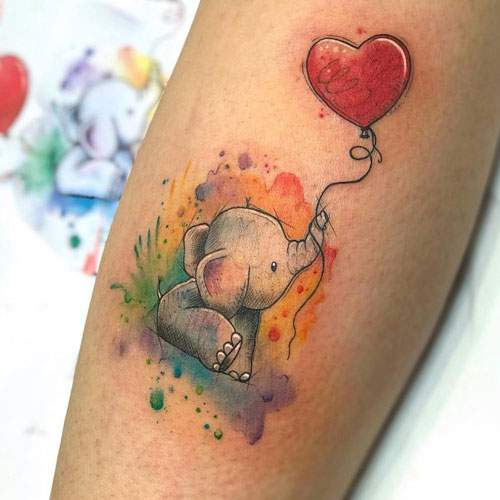 Finally, people sometimes do a mirrored image of an elephant's head facing itself, all done within the shape of a heart. You can get really creative with this design concept.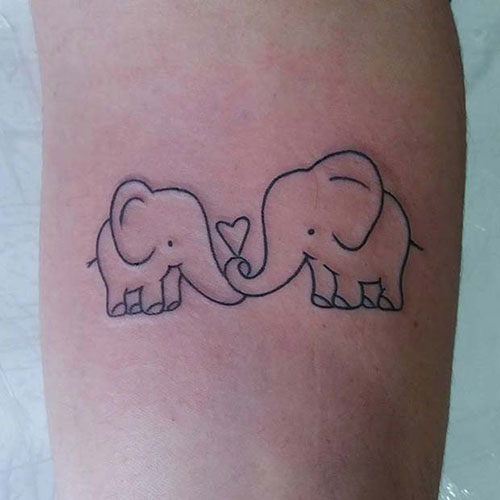 Line of Elephants Tattoo
Another popular elephant design is the line of elephants concept. This could include three or four elephants or even an even longer line.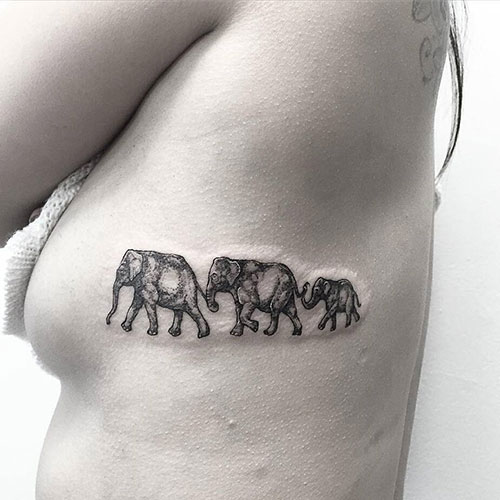 Elephants are more family-oriented than most species, and elephant families are headed by a matriarch, so this tattoo concept is popular for mothers who want to have a symbolic representation of themselves and their children.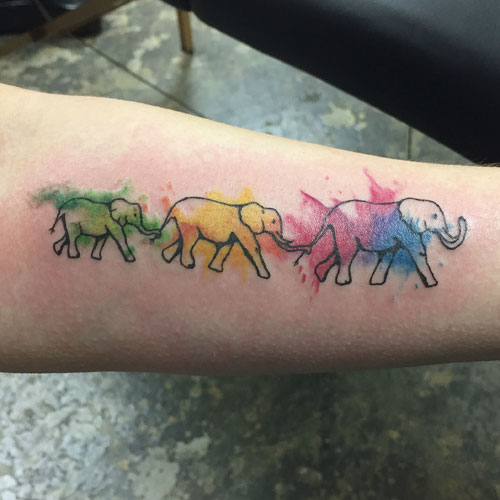 A tattoo like this will often consist of one adult elephant trailed by her children.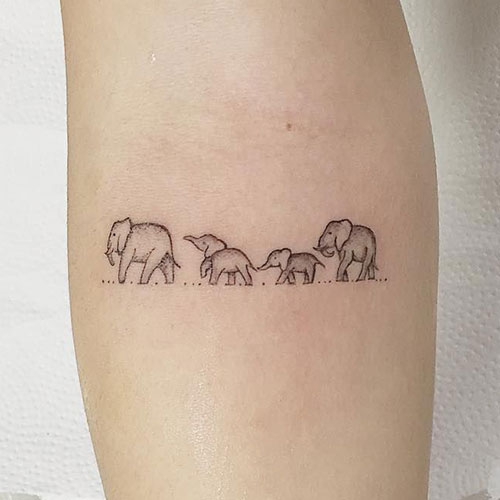 Baby Elephant Tattoo
Because elephants symbolize wisdom and knowledge, you will frequently see tattoos that feature older, wizened elephants with lined and cracked faces.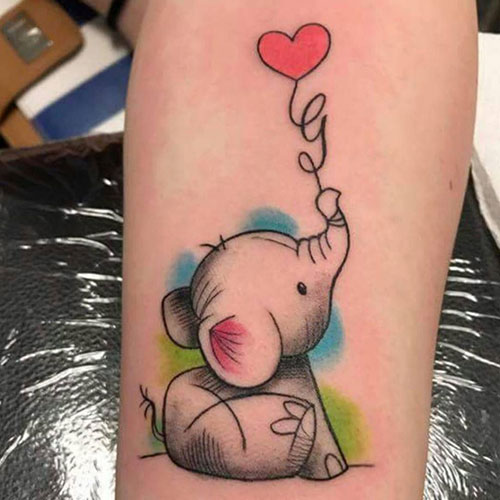 Baby elephant tattoos are often much more whimsical. They tend to be cute and roly-poly, with limpid eyes and touches of pastel coloration. They are every bit as adorable as an adult elephant is dignified.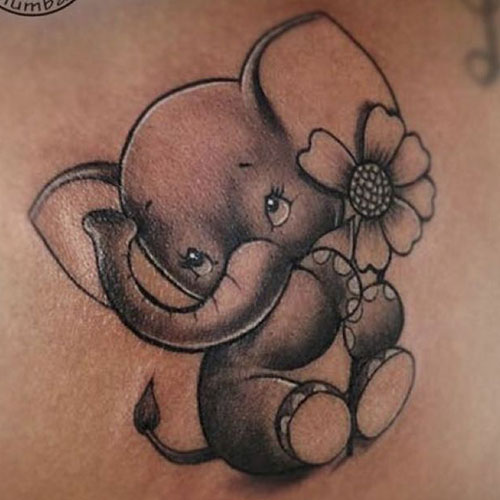 Elephant Arm Tattoo
If you want a medium-sized tattoo with minimal detailing, the arm is the perfect location. Just a hint of shading can make an elephant in profile really pop.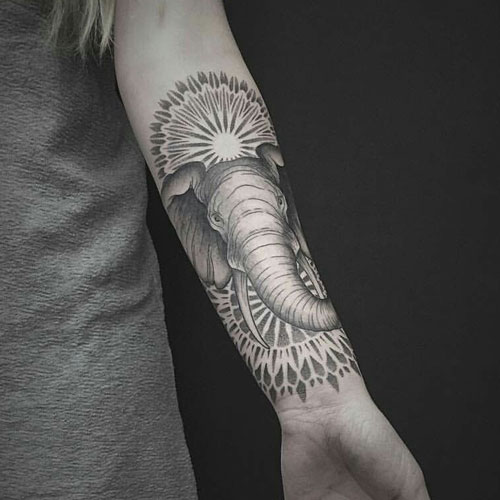 Elephant Back Tattoo
If you want to get something more ornate or detailed, the back is a perfect location. There is plenty of room on the back to do a large design, which means your tattoo artist can pack in a lot of details and get creative.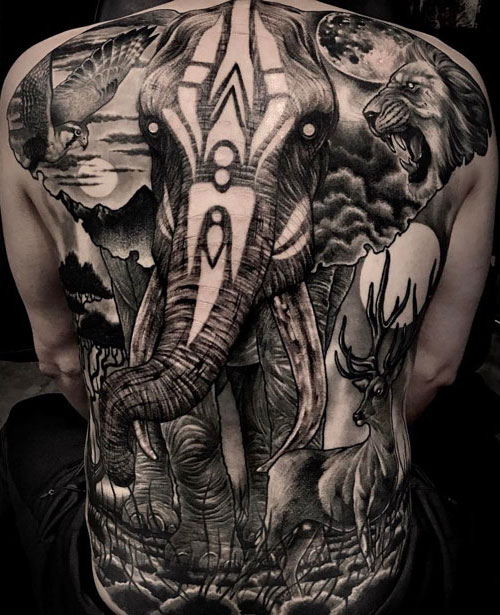 The back is also easy to cover up if you have a job that doesn't allow tattoos, but it's easy enough to find a placement that allows you to show it off on the weekends.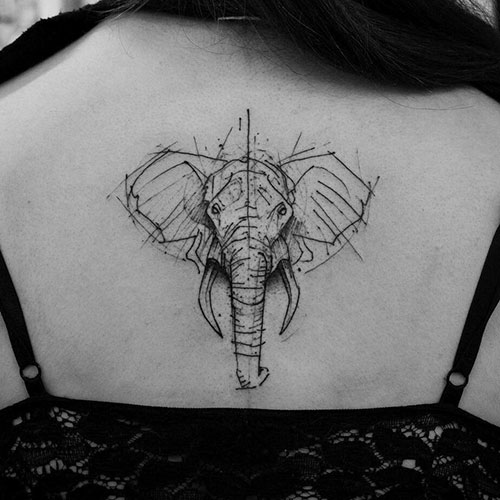 Wrist
The wrist is an excellent place to get a tattoo that's big enough to contain some detail, but not overwhelmingly large. Many of the tattoo designs covered in this piece could be easily rendered on the wrist.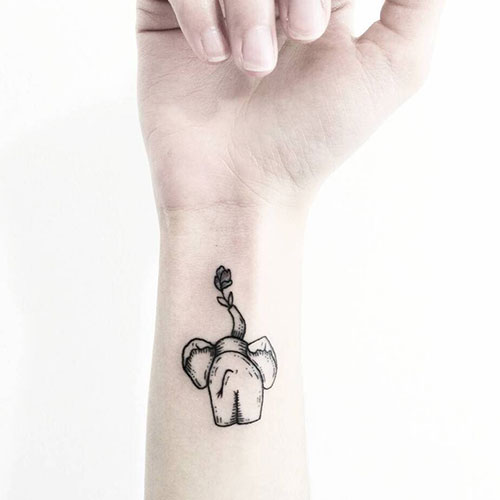 A cute baby elephant tattoo or an embellished mandala elephant tattoo would be equally at home on the wrist.
Hand
Because elephants are considered a symbol of fidelity and loyalty, some people have taken to getting a small elephant tattooed on their ring finger in lieu of wearing a wedding band.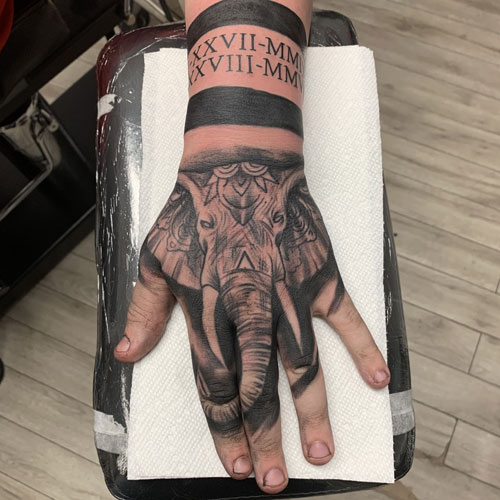 If you're a little bolder, you can get an elaborate elephant tattoo that covers your entire hand. Mehndi, an ancient form of body art that originated in India, is often used to create complex designs on the hand.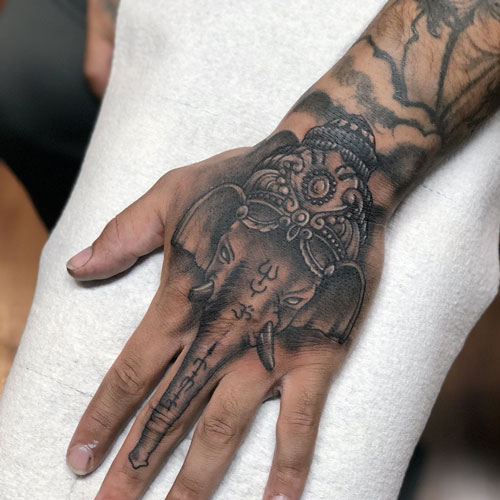 An elephant tattoo done in the style of Mehndi makes for an intricate and beautiful piece of work.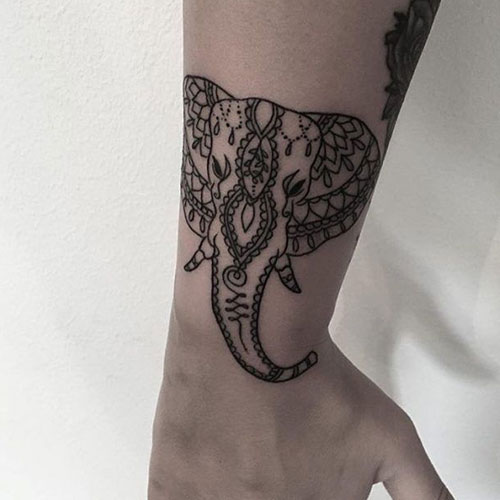 Shoulder
Shoulders are a great place to get larger, more detailed elephant tattoos. There are many different styles of elephant tattoos that work on the shoulder in different ways.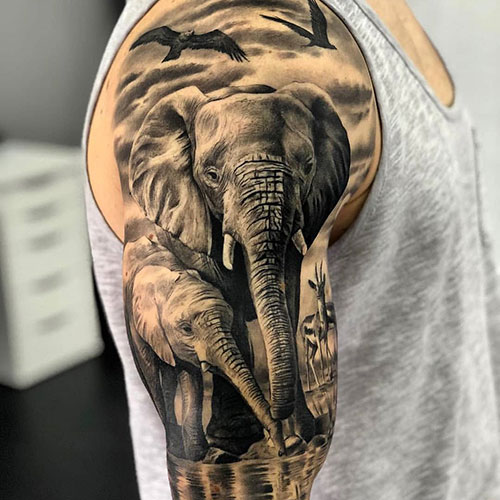 You can have just an elephant head looking straight on with a colorful background. Or maybe a real black and gray portrait. Further, you may love an elephant combined with a mandala. The possibilities are endless.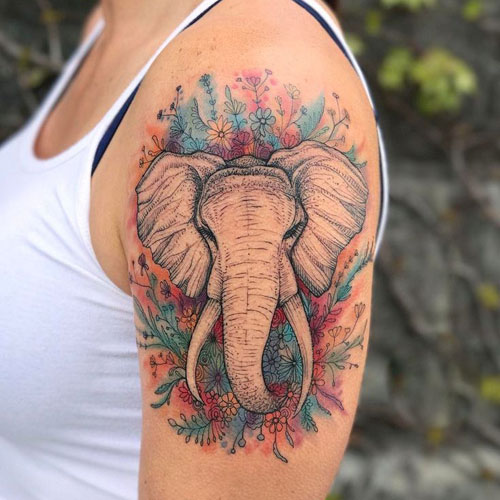 Chest
The chest is another place where you can go big and make a really powerful statement. You can get choose to get something on a pectoral muscle, but if you're into symmetry then a piece that is centered on your sternum is a great choice.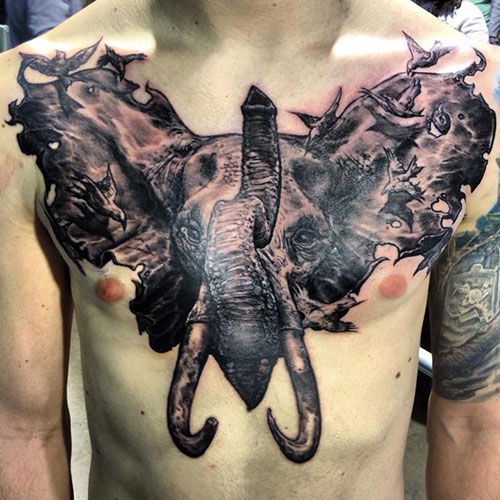 Best Elephant Tattoo Designs
Find the best elephant tattoo designs and ideas with meaning below to get ink you'll love for a lifetime.