Women who have sisters will often tell you that their sisters are some of the most special people in their lives. Though the teenage years can often be tumultuous and result in endless arguments, adulthood brings a newfound appreciation for sibling solidarity. Sister tattoos are a great way to memorialize your sister, especially if you choose matching sister tattoos.
Sisters are not just family members. In many cases, sisters remain the best of friends well into their golden years. Your sister knows your secrets and you know all of hers, and you would defend one another's honor until your dying breath. The sister tattoo ideas below are great ways to express that love and bond.
Cute Sister Tattoo Ideas
The most popular of all the sister tattoos are matching tattoos. These involve traveling to your tattoo artist together and getting the same (or almost the same) design on the same part of your body.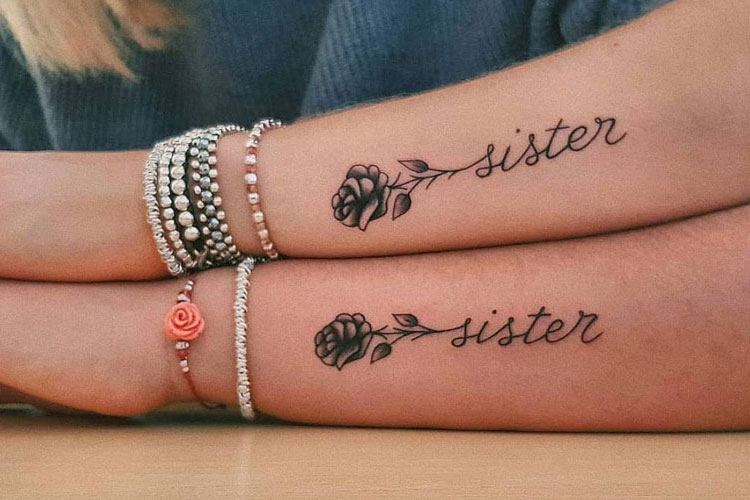 For inspiration, check out the best matching sister tattoo ideas. These creative and cute design ideas are sure to help you come up with your own unique and meaningful artwork!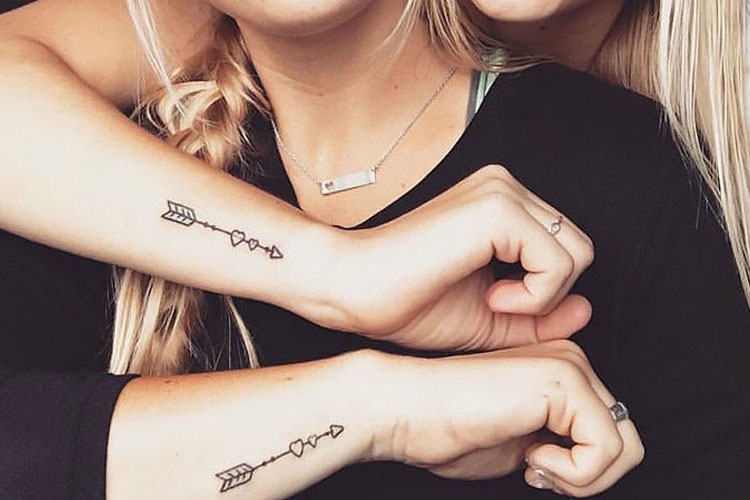 Small Sister Tattoos
Small sister tattoos are a subtle, yet beautiful way to pay tribute to your partner in crime. Whether it's music notes or a pair of wings, small tattoos pack a meaning that transcends their muted size. Browse below for even more small tattoo ideas for you and your sister!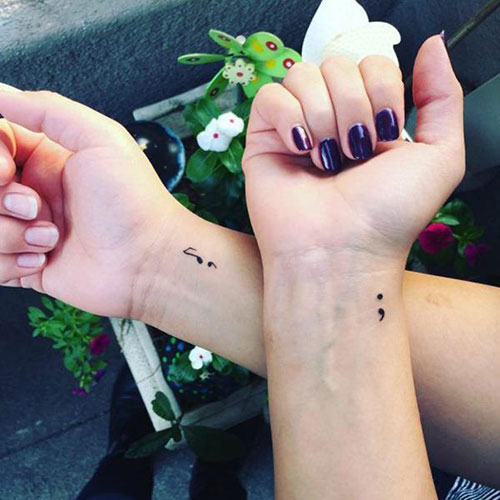 Sister Flower Tattoos
You and your sister(s) each get a tattoo of the word "Sisters" in the same location but accompanied by your own favorite flower. Maybe you like carnations but your older sister prefers peonies. With this semi-matching tattoo, you can express your individuality and your bond at the same time.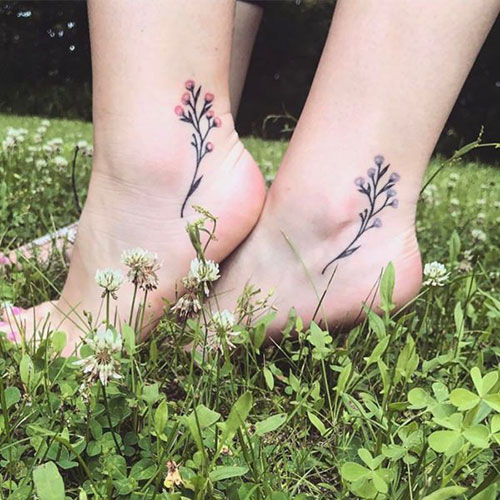 Dream Catcher Tattoos
Dream catchers are another common matching tattoo for sisters. They can be large or small, colorful or black, and located almost anywhere. They can be left simple, or they can say "Sisters" across the center.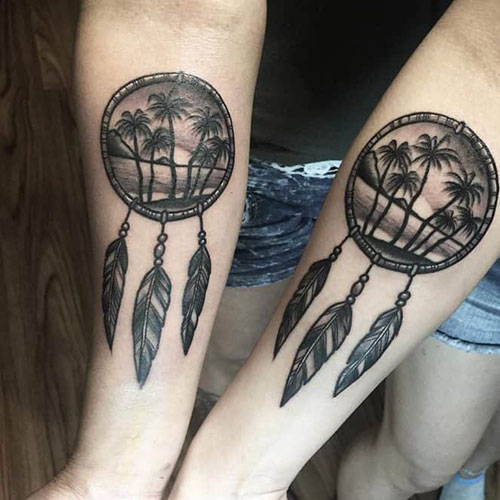 Big Sister & Little Sister Tattoo
Pick a cute stick-figure image that you like, whether it's a woman sitting on a swing or holding a tin-can "telephone." Each of you gets the same basic tattoo – perhaps with a little alteration like one sister with her hair in a ponytail and the other with her hair in a bun – along with the words "Big Sis" and "Little Sis". It's cute and it's simple.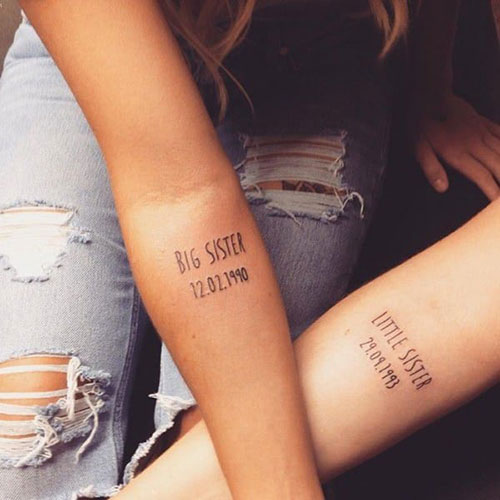 Sister Tattoos For 3
Have two sisters? No problem. There are plenty of great sister tattoos that can accommodate three siblings. From matching arrow tattoos to a flock of flying birds, there's a meaningful sister tattoo perfect you and your sisters.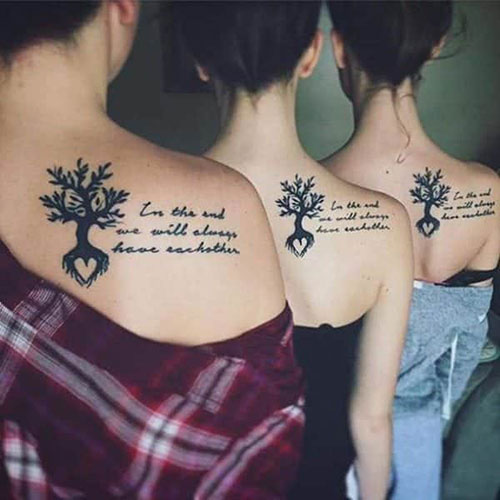 Sister Tattoos For 4
Matching tattoos for four are the perfect way to ride in style with your sisters. Consider getting a tattoo idea that is close and personal or a symbol of something unique to you and your siblings. That way you'll always have a special story behind your ink!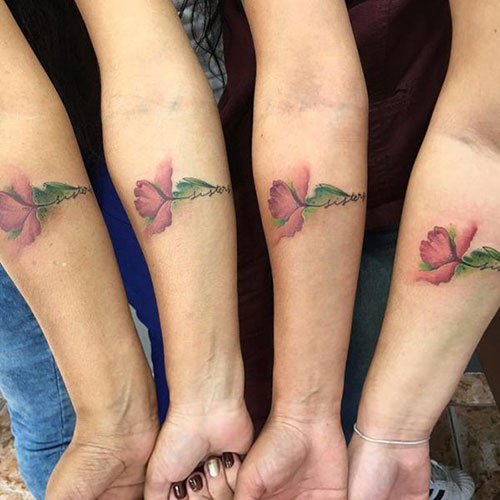 Brother and Sister Tattoos
Even though brothers and sisters are oftentimes at odds with one another on the surface, a deep sibling bond usually underlies the relationship. And there's no better way to demonstrate this bond than with a brother sister tattoo.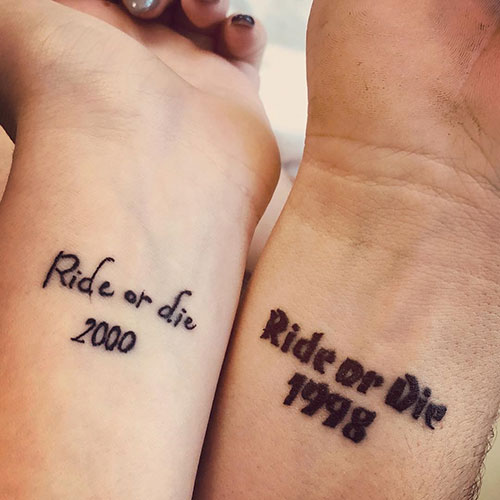 Matching Tattoos
Some of the most popular include "My Sister's Keeper," "I carry your heart with me; I carry it in my heart," and "There's No Better Friend than a Sister."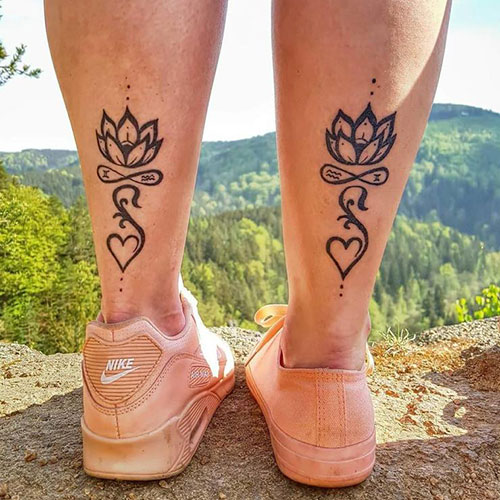 "You're My Person"
If you're a Gray's Anatomy fan, then you're sure to recognize this powerful exchange between Christina Yang and Meredith Gray. It means everything and that's why it's the perfect sister tattoo.

Best Sister Tattoo Designs
Of course, not all sister tattoos have to be matching tattoos. There are a few interesting and cute ways to make your sister tattoo perfectly unique. For example, you may both choose to get an infinity symbol in the same place, but each symbol may incorporate something different, such as an anchor, wings, feather, or another favorite symbol.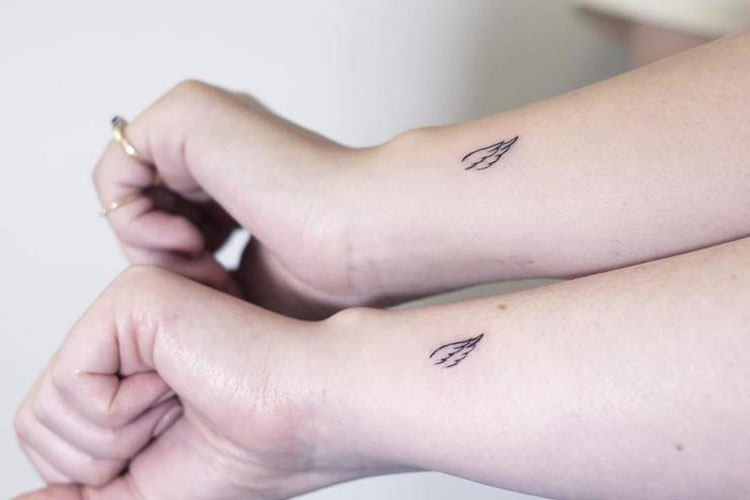 Adding the words "Big Sis", "Middle Sis" and "Little Sis" (or Sister 1, Sister 2, Sister 3, and so on for larger families) can make any small and dainty tattoo a tribute to your sisters.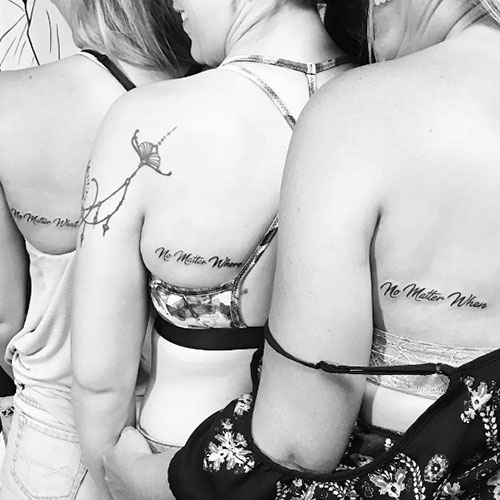 The best sister tattoos of them all are those that perfectly capture your personalities, allow you to pay homage to your relationship in ink, and make you smile each time you look at the designs.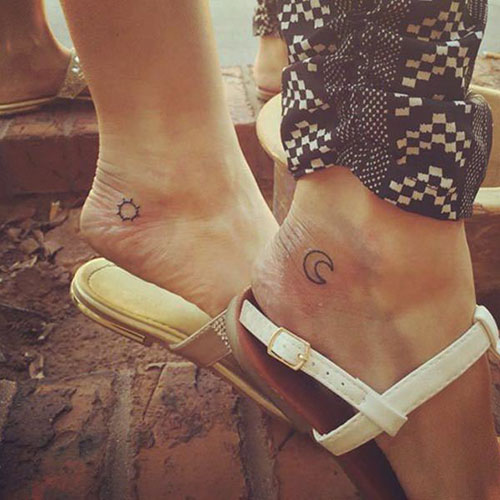 Here are 101 heart-warming and adorable sister tattoos to get together. We're confident you'll fall in love with these amazing ideas and find a sweet design just for you girls!